JT Music/Minecraft - The Mob Raps Lyrics
RAP 1
[Zombie]
They call me undead an ABOMINATION
Better get yourself prepared for ZOMBIE CHASIN
Once I'm on your tail
I cannot be stopped
I'll keep slammin' on your door until I KNOCK IT OFF
(GRRRRRRRRR!)
Is one of three words
In my vocab
If I say BLEH BLEH
Then you made me MAD
And if you push me
I'll push you back
My skin is green and my heart is BLACK

[Skeleton]
I'm like walking corpse of LEGOLAS
I got a bow in my hand and I NEVER MISS
I'm menace to everybody in the game
You hear my bones CLICK CLACK
And ya know my name
Cuz I'm a skeleton
Ya better run
I'll shoot ya bum PUNK
Just because I think it's fun
If you're outside at night
You should try to hide
I'll be lookin' for ya while I take a SPIDER RIDE
WOOO


[Creeper]
Don't mistake me for a walking penis
Yes I'm shaped like one
But I'm quite egregious
Because everybody runs
No one ever hits me
You know if I go down
I'm TAKING YOU WITH ME
HISSSSSSS
That's the only sound I make
And if you hear me nearby
Then it's probably too late
My massive blast radius
Will hit your bum
Say goodbye level 50
Hello level ONE

The sun goes down
That's when
They get started
They've got one mission
That's to
Kill the target

Are you the kinda miner who can fight off all the mobs?
Or are you
Just another noob
Who keeps
Creative mode on?


[Zombie Pigman]
I spawn within the depths of nether
So I'm rather accustomed to fiery weather
And I'm on patrol with a golden sword
Gettin' ready to attack
So COME AT ME BRO
SNORT SNORT
Don't try to make me OVERREACT
Because once I'm provoked, you get the WHOLE PACK
You may call us butt buddies and we are just that cuz we smell like bacon and we taste like ASS

[Villager]
WHOOOAAAAAA
I'm just a villager dude
I was caught in the middle of a CRAZY feud
I just grow my herbs and smoke my pipe
I have a tiny house bro
THIS IS MY LIFE
I just do what I can to get by then the mobs and griefers screw me over
WHY!?!?!?!
Let's all live in HARMONY!
We can work together dudes
Come along with me!!!

The sun goes down
That's when
They get started
They've got one mission
That's to
Kill the target

Are you the kinda miner who can fight off all the mobs?
Or are you
Just another noob
Who sleeps in bed until dawn?

[Ghast]
My voice is high-pitched so nobody likes me
I can't live in a house
Cuz that'd be a tight squeeze
I fly freely with my eyes squeezed tight
Take a nap in the sky
Till find a fight and then I SQUEAL like a girl and I breathe fireballs
If you think that you can take me then I hope you're kinda tall
I'm the biggest in size and I use it well
I may sound like a baby but I SPAWN IN HELL

[Enderman]
Well...
I'm an Enderman...
...rapping isn't my THING
But I guess I'll do SOMETHING since...
I'd prefer not to SING
I'm tall and dark, all I do is walk minding my own business until I'm pissed off
Is this block from your house?
WELL NOW IT'S MINE
Don't look at my face and we'll be JUST FINE

The sun goes down
That's when
They get started
They've got one mission
That's to
Kill the target

Are you the kinda miner who can fight off all the mobs?
Or are you
Just another noob
Who spawns whatever he wants?
PATHETIC

The sun goes down
That's when
They get started
They've got one mission
That's to
Kill the target

Are you the kinda miner who can fight off all the mobs?
Or are you
Just another noob
Who sounds like somebody's MOM?!?!

RAP 2
[Skeleton]
Ladies and Gentlemen, we're back! AHAHAHAAH!

[Ender Dragon]
You guys forgot me last time, But you won't forget me now!
You'll Find me in the ender, in a dark place underground!
Flying around, swooping down, ending any intruders in my house
You'll need a lot of luck to get here, but you'll need more getting out!

[Blaze]
I'm from the nether man, all I do is rave
This is why I'm hot, 'cause I love to blaze
(cough cough)
Getting smoky, spittin' flames
Take a Blaze rod bro, you'll be usin' it for days

[Slime & Magma Cube]
Slime and Magma Here!
Just a hoppin' if you can tell!
I'll surprise ya when your mining!
And you'll find me down in Hell!
Oh snap! If you attack
We split in half to no end!
Magma Cube?
What's up Slime?
Time to bounce my friend!

[Grandpa Jenkins & Grandson]
Gotta make a run-run, gotta get away-way
Hide inside a cave and wait inside until its day
Then I'll have my fun-fun, when I know its safe-safe
Survival is all I know, it's the Minecraft way!
Gram-pa always told me it's rough out there!
Now I'm climbing and mining and hiding and I can't get all these mobs out of my hair!

[Chicken]
This is what you get for treating chickens like SHIT!
I'll sneak into your house and overpopulate it with a bunch of baby chicks!
When you come home from a long day of work you're gonna pull out all your hair!
I'm laying eggs like a boss giving birth everywhere!

[Skeleton]
You've heard from me before, but I've come back right on time!
When I heard this funky beat I knew I just had to drop a rhyme!
As you recall I'm quite a marksman with my arrows and my bow
So you'll want to have protection when you receive my many blows!

[Zombie]
You'll hear me grunting, but I'm not taking a dump!
Even though I smell like someone who just took a dump
I'm the undead douchebag slamming your door with my nuts!
I'm here to eat your face, your legs, your arms, and even your butt!

[Spider]
Crawling hissing attacking insulting harrasanating anything that may be living my mission is to simply kill everything take a finish of you I'll be jumping and sprinting for miles and now the mobs are winning and you can never stop them, 'cause nobody steps on us!

[Iron Golem]
Make way for Iron Golem!
Throw you in the air like a little tiny toy!
Pick things up and throw them down! I am big and I destroy!
If you mess with my village then you will certainly be screwed!

[Villager]
I can't do squat for myself so thanks for the help dude!

Gotta make a run-run, gotta get away-way
Hide inside a cave and wait inside until its day
Then I'll have my fun-fun, when I know its safe-safe
Survival is all I know, it's the Minecraft way!
Gram-pa always told me it's rough out there!
Now I'm climbing and mining and hiding and I can't get all these mobs out of my hair!

[Squid]
I just love swimming under the sea
And I never bother anybody!
I just love swimming in the ocean…

[Creeper]
Screw you squid! The Creepers back in this hizzy!
If you don't like getting blown up then you should run away quickly!
If you don't have good shelter, then you should probably get busy!
I'm gonna blow off your face as soon as you try to hit me! BLAH!

[Skeleton & Herobrine]
Um, um excuse me but where are you from sir?
You don't need to know
But you're not on the roster! We like to keep track of all the mobs that come through
You do not need to know
I'm sorry but I do! Just your name would be fine!
Walk away or you will die!
If you're a mob, what kind?
People call me HEROBRINE!
Oh my god… EVERYBODY RUN!

[Herobrine]
I am the spirit of Minecraft! No one can touch me!
Even when you think your alone you feel like something is watching!
And if you see my name, you should run while you can
I will rip through the Earth 'till I find where you stand!
And before I was like this you must understand…
I was no different than you… I used to be…
A man…
Thank you

RAP 3
[Skeleton]
Welcome back mobs and monsters!
Ghouls and goblins of all shapes and sizes!
DJ Deadpig drop the beat!

[Villager]
Oh man what's going on here?
I thought I heard something
Oh god no please!
Blahaa

[Skeleton]
Get ready cause we're back!
And we're back for good
When the sun goes down better leave the woods
I got a couple arrows ready and I'm ready to shoot!
So by the time I'm done you will be zombie food
(Yummy!)
Pillaging your little village is fun
I'm only good at killing you so are you willing to run?
If you've got a lot of armor then come get some!
I'll put a frown on your face and an arrow in your bum!

[Witch]
If I had a broom, I'd take to the skies
And cook up a stew with spider's eyes
I have all kinds of potions, you cannot hide
With a flick of my wrist, you die!
If you try to kill me, I wish you luck
Got a couple potions to heal my cuts
I don't need friends, I live alone in my hut
You don't like my nose? Kiss my butt!

[Grandpa Jenkins & Grandson]
The sun goes down that's when they get started
They've got one mission that's to kill the target
(Ahhhhhhh)
Grandpa I just heard something
I guess I should start running
But what's the point if you got no place to go?

[Cow & Pig]
I think we showed up at the wrong occasion
We'll get on our way, we must be mistaken
We was lookin' for a field with some plants to consume
Sorry to interrupt, you can resume
We don't like killing people or causing harm
I mean look at us we belong to a farm
So if you don't mind, we'll move on by
Oh look some wheat!
Move bitch it's mine!

[Enderman]
Ah-Ahem
Well, I'm the enderman
Rapping isn't my forte
But I suppose while I have the stand
I can tell you my story
I don't know where I'm from
I don't know where I'm going
But I hate everyone
So I guess that's worth knowing
And if you don't look at me then I won't bother you
And you'd better not steal because that's what I do!

[Wither]
I'm your worst nightmare, and you'll never wake up
I make the EnderDragon look like a cakewalk
I'm from the nether where I never see the sun
And I'm proof that three heads are better than one
Throwin' wither skulls
Makin' wither sounds
You're ready to give up
I want another round
Nobody's gonna save you now
I'm the mob boss
Represent the undead crowd!

[Grandpa Jenkins & Grandson]
The sun goes down that's when they get started
They've got one mission that's to kill the target
(Ahhhhhhh)
Grandpa I just heard something
I guess I should start running
But what's the point if you got no place to go?

[Chicken]
Guess who's back
You bunch of little bitches?
Just when you thought it was safe to eat chickens
I'm gonna make you wish you'd never had a taste
Layin' eggs like a boss, takin' over the place
Aaagh
Humankind has had its run
Now it's time for the poultry to have it's fun!
You've gotten yourself in a feathery storm
For each one of us you kill
A dozen are born!
Yeah, passin' off the mic to my partner in flight
MC Fangs!
....?
Ah screw it, who's next?

[Ezio]
They call me Ezio
They're never gonna get me though
I'm a voice for the voiceless
Eyes of the blind
And I'm always in the back of my enemy's minds
None of these infidels shall flee
I'm a decked out weaponized killing machine
Doesn't matter what game i came from
Here I am
I'm the first one to strike and the last one to stand
Now hit the chorus again!

[Grandpa Jenkins & Grandson]
The sun goes down that's when they get started
They've got one mission that's to kill the target
(Ahhhhhhh)
Grandpa I just heard something
I guess I should start running
But what's the point if you got no place to go?

RAP 4
[Skeleton]
Ladies and gentlemen
I trust we need no introduction
Hahaha
Mob Rap part 4
Break it down

[Wolf]
Don't tell me that my bark is bigger than my bite
Because if you take a whack at me you're gonna get a fight
Never travel with a pack, 'cause I like to hunt alone
I'm an untamed beast - Wait a sec is that a bone?
Oh yes yes yes, I'll do anything you wanna
If you treat me really well I'll even wear a doggy collar
I'm a man's best friend, and a mean sheep eater
And I'll keep your house safe when I scare away the creepers

[Creeper]
Hold up, scare me? That's not true
I'm only keeping my distance 'cause I'm allergic to you
Every single Minecrafter with half a brain
Is afraid of me because I'll send 'em up in flames
I got gunpowder inside of me, you should not be fighting me
Because I got a short fuse, so don't go igniting me
I'll rock this server, making every block quake
There is nothing on this damn planet I can not break

[Silverfish]
Guess who decided to show up this time?
It's the most obnoxious mob you're ever gonna find!
If you pick the wrong block when you're digging through a mine
Then I'll pop right out and bite you until you die
I'm a spiky little pest with a set of sharp teeth
And I'm really hard to catch because I'm so tiny
Even if you kill me, there's more on the way
Grandpa Jenkins, what you gotta say?

[Grandpa Jenkins & Mobs]
The moon is coming up, the sun's going down (Going down)
I'm looking for my friends but no ones around
(No ones around)
We're coming out to get you
Too bad that I won't let you
In these dark times, it's a hard life
But I'm never gonna let them take mine!

[Horse]
Drop that lasso and put down the saddle
'cause you can't fence me in like a subservient cattle
You think a sword makes you tough? That doesn't matter
Get of my back, you're never gonna win this battle
Bah fine fine fine, I guess I can't stop it
But if you steer me towards a cliff, I will jump off it
I was a wild stallion with a need to be free
And now I'm just a brain-dead obedient steed

[Blaze]
It's been a while man, I been straight blazin'
Hangin' in the Nether, straight blazin'
You know why I'm hot, 'cause I'm straight blazin'
Representin' Colorado, straight blazin'
When I'm in a battle, I am amazin'
Shootin' fireballs, call me Mr Flame Man
Don't you mess around with me while I'm blazin'
Nobody gives a light quite like a blaze can

[Grandpa Jenkins & Mobs]
The moon is coming up, the sun's going down (Going down)
I'm looking for my friends but no ones around
(No ones around)
We're coming out to get you
Too bad that I won't let you
In these dark times, it's a hard life
But I'm never gonna let them take mine!

[Wither & Ender Dragon]
[Ender Dragon:] It's the return of the baddest mob boss ever
[Wither:] Mob boss? Ha, that's cute and clever
[Ender Dragon:] Stop Mr Wither, I will not have you mock me
[Wither:] How adorable, a dragon that's talking
[Ender Dragon:] At least I'm more than a deformed skeleton
[Wither:] And I've told you that three heads are better than one!
[Ender Dragon:] Well I can fly!
[Wither:] And so can I!
[Ender Dragon:] Maybe we should be friends!
[Wither:] Let's give it try! (wheee!)

[Skeleton]
It's another mob rap, and it can never end
Without another couple bars from the skeleton
I'm a rhymin' marksman, and I never miss a target
Quick to win a battle even if I didn't start it, ha!
And if you've got a bone to pick
You might as well go home before your bum gets kicked
I'm better with a bow than Katniss Everdeen
[Wolf:] Oh my god a bone!
Stupid wolf let me be!

[Grandpa Jenkins & Mobs]
The moon is coming up, the sun's going down (Going down)
I'm looking for my friends but no ones around
(No ones around)
We're coming out to get you
Too bad that I won't let you
In these dark times, it's a hard life
But I'm never gonna let them take mine!

[Ghast]
What's up everybody, it's me; the ghast
Back up in this hizzy to kick some...

[Skeleton]
Oh I'm so sorry but we're out of time

[Wither]
Yeah gotta run

[Ghast]
Hey, hey, guys come on
Don't cut the beat
That's just rude
I bring my best lines every time and you give me the cold shoulder
You let the silverfish have a verse... The Silverfish had a verse! And I don't get one
And now you're all going to leave. Thanks...!!!

RAP 5
[Grandpa Jenkins:]
Oh no! OH NO!
I recognize that creepy music!

[Stray:]
Welcome everyone, to the fifth reunion!

[Grandpa Jenkins:]
I'm gonna need you guys to wrap it up real quick!

[Stray:]
Did somebody say, "Rap"?

[Grandpa Jenkins:]
OH NO LORD HELP ME!!!

[Stray:]
After all this time, we've made some changes
Come with me, see the brand new faces!
How long has it been? Hard to say!
It's me, Skeleton, but I've gone astray!
Still a marksman, handy with a bow
If I hit you with an arrow, it'll make you very slow!
I've been through a lot, can you tell from my clothes?
But the bars that I drop are still ice cold!

[Husk:]
I'm not a zombie, I'm just a husk!
I survive the sun from dawn to dusk
I like it hot, I'm awful sunburned
And when I punch you, I'll hit you with hunger!
My brain is fried, my skin is charred
If I don't kill you, you'll just starve!
When you're in a desert, you don't wanna touch me!
Do I look like a guy, who'd carry sunscreen?

[Polar Bear:]
Hey extra crispy, take a seat
I'm an iced out bear, but I'll spit some heat
You mess with my cub, and I'll make you my snack!
Get up on my hind legs, and come down with a wack
Poke the bear, you get the claws
I'll use your bones to floss my jaws!
Damn, that's cold, I got 'em like burr!
By the way, don't touch the fur

I hear them outside my door!
(Here we go again!)
I can't take it anymore!
(Will this ever end?)
These mobs keep on comin'
They got me a runnin'
How have I survived all the way to Part 5?!
Can't believe I still haven't died!

[Endermite:]
I don't have weapons to kill you with
And for the last time, I'M NOT A SILVERFISH!!
Even though that's kinda what I'm acting like
I may be small, but my raps are tight!
Ender Pearls make Endermites!
So you better stock up on pesticide
I'll hunt you down when I prowl around

[Enderman:]
Get some soul sand, drown it now!

[Endermite:]
STUPID ENDERMAN!

[Enderman:]
I hate these little pests!!

[Rabbit 1:]
Eh, What's up doc?
Got any carrots, I like 'em a lot
Sorry about hoppin' and chompin' on your crops

[Rabbit 2:]
Somebody say carrots?

[Rabbit 1:]
That's all that we want!
I got a big family, we're pretty good at eating

[Chicken:]
And I thought chickens we're the best at breeding!

[Rabbit 1:]
Run! It's a wolf and he looks pretty hungry!

[Killer Bunny:]
He's no match for the Killer Bunny!

[Guardian:]
Come prepared if you're looking for Atlantis
If you breathe air, you won't have an advantage!
Razor sharp thorns, laser beam vision
Want an easy fight? Better keep fishin'!
Our temple is ancient with treasure at the core
But it would be wise to stay ashore!
Attention squid: You should all get lost!
Touch our gold, and you will deal with our boss!
Take us out of water, and we just flop

I hear them outside my door!
(Here we go again!)
I can't take it anymore!
(Will this ever end?)
These mobs keep on comin'
They got me a runnin'
How have I survived all the way to Part 5?!
Seriously, how am I still alive?!

[Ocelot:]
Want to pet me? not today!
(Meow!) Come close and I run away
(HISSS!) I keep my distance when I stalk my prey
Just spotted a chicken a couple blocks away!
I'll be your cat on one condish
Keep me fed with a lot of fish!
I'll scare the creepers and protect your home
Dogs suck! Cats own!

[Shulker:]
Welcome to the End, keep an eye on the bricks
I blend right in because I'm full of tricks!
If I hit you with a spell, it will levitate you well
And your petty arrows won't penetrate my shell!
Don't need a stronghold, my shell's a fort
Hit me with a sword, and I teleport!
Our defenses will hold you for hours!
Watch your step when you climb our towers!

[Donkey:]
My back is aching...My feet are hurtin'
Why do I have to...be your servant?
I swear to Notch...you keep be workin'
I'll put the beast...back in beast of burden!
I'm sick and tired...of bein' treated like vermin
DON'T MAKE ME BRING MY HERD IN!!
Hee Haw! I carry more than a horse

[Horse:]
But you're not as fast!
Kiss yourself cause you're an ass!

[Creeper:]
Heads up! (Heads up!) Get low! (Get low!)
I'm bout (I'm bout) to blow! (to blow!)
I'm known to drop bombs a lot
And I've been hissin' long before ocelots!
Y'all know me, I'm the OG mob!
I rap battle zombies and blow things up!
So you can call this my bomb track
I go out with a bang on a mob rap!

[Ghast:]
Heheh, hey, Sans and Papyrus called
They want their puns back!

[Creeper:]
Ah! Shut up, Ghast!
Nobody invited you!

I hear them outside my door!
(Here we go again!)
I can't take it anymore!
(Will this ever end?)
These mobs keep on comin'
They got me a runnin'
How have I survived all the way to Part 5?!

[Grandpa Jenkins:]
Wow! What a horrible nightmare!
It's OK. Just a dream. Just a dream

[Stray:]
Until Next Time...

RAP 6
(Grandpa Jenkins and Skeleton):
Oh come on, give me a break!
It's about that time again!
No...no...I'm not even scared anymore!
But you will be!
You guys wrote these songs the same way everytime!
No we didn't!
I need a vacation!
Oh, enough, zombie, take it away!

(Zombie)
You already know the undead abomination
Better lock all your doors cuz I wanna break in!
This OG Zombie's still just as grisly
(Baby Zombie)
Daddy I'm hungry!
(Zombie)
Son, I'm busy!
(Baby Zombie)
But I want brains!
(Zombie)
I'm working on it now, kid!
(Baby Zombie)
You're dead to me!
(Zombie)
That's it, you're grounded!
I wish I had time for a longer verse
I'm still a zombie, but a father first

(Skeleton)
That doesn't mean you can't get back on the saddle
When I hit the scene, you know bones will rattle
I'm a bowman whose skills are long reputed
I'll strike you in the heart with an arrow - Cupid!
Beg for mercy, you'll find I'm heartless
Run and hide cuz I do not miss my targets!
The sun goes down, that's when we get started
But when my Mobs spot you, you'll get bombarded!

(Llama)
That's what I think of you!
You got a problem with a llama? Try to bring it dude!
I'll hock a loogie on your face
And put you and your obnoxious dogs in place
Don't try to tame me because that will fail
Wait, is that hay? Let me have a bale!
Please just don't load up my back with a chest
I'm not a pack mule, I would rather be dead!

(Villager)
It's okay my man, I'm a fan of animals
My land is fertile with plants and vegetables
All organic with plenty of edibles
And my Golem guards are all dependable
(Evoker)
It would be a shame if it all got pillaged!
(Villager)
Oh no, illagers are taking my village!
(Evoker)
The Evoker's sure to get you Vexed
(Villager)
No griefers man, did you read the text?
(Illusioner)
Don't trust your eyes, or I'll rob you blind
I don't need to be a witch to play tricks on your mind
(Vindicator)
Forget magic, I'd rather use an axe to kill!
(Villager)
Is this Minecraft or a slasher film?

(Cave Spider)
Neither - I'm weaving a web that'll lead you to death
Don't even think about leaving, I will eat you instead!
So be careful if you come across a cave
(Grandpa Jenkins)
Only thing I'm digging is a mob-sized grave!

(Grandpa Jenkins)
I'm not a miner, I'm a fighter, sick of hiding
Soon I'll retire with my diamonds to an island
(Skeleton)
Forget about survival
(Grandpa Jenkins)
This rap will be your final!
(Skeleton)
Just face the doom you can't avoid!
(Grandpa Jenkins)
When I'm gone you'll be unemployed!

(Creeper)
Can it, grandpa, your career has fizzled!
I hop on the beat and make the track sizzle
Listen for the hiss, it's your signal to run
My rhymes are explosive and no that isn't a pun!
Woops, does anyone have a light?
Honestly this never happens, my fuse won't ignite! (dammit!)
Don't judge me, I'm getting old for a creeper!
(Grandpa Jenkins)
Now you'll think twice to call me an old geezer!

(Blaze)
Somebody needs a light you say?
Leave that to blaze I stay lit all day!
Blaze nation is going all the way
Try to put me out, I'll smoke you like a vape
Dishing out blaze rods - my bars are flaming
I drop 'em like they're hot - can I get an amen? (Woo!)
Representing the Nether forever!
Bring your friends man, you'll be Blazin' together

(Chicken)
I'm back with a vengeance, suckers!
The chicken is in the house, mothercluckers!
I've laid so many eggs you'll get stuck with!
I ain't the kind of bird that you wanna pluck with!
(Pig)
Chicken, come on, you're giving us a bad reputation
(Chicken)
Nobody asked you, ya fat slab of bacon!
I'm the cockiest kind of livestock
And if you disagree you can suck on my-
(Cows)
STOP!

(Grandpa Jenkins)
I'm not a miner, I'm a fighter, sick of hiding
Soon I'll retire with my diamonds to an island
(Skeleton)
This fight will be your last one
(Grandpa Jenkins)
Just need a brief distraction
Look, singing dirt blocks! Right behind you!
(Skeleton)
Oh, really? Can they harmonize too?

(Dirt Blocks And Skeleton)
What kind of world would you live in without me?
(Um, what is this?)
We will support you all, the earth beneath your feet
(Anyone, can we get these guys out of here?!)
(This is ridiculous! They're breaking up the flow!)
This crazy world is turning but this dirt will hold its ground
(Augh! Somebody summon the enderman!)
Excuse me, who are you and can you put me down?

(Enderman)
Sorry, carrying blocks is something I like
Hey, haven't we met at an open mic?
Why am I even on this track?
I never signed up for this - NO EYE CONTACT!
I really don't want to sit through this again
So let me teleport straight to the End
For the last time, rapping isn't something I enjoy
(Ghast)
Then pass me the mic and let me destroy
DJ DeadPig, spin that shit

(Ghast)
Been spending time in the lab, refining my rap
The only craft that you've mastered is mining - it's sad
All of y'all have made these raps a living hell for me
Can't even think for yourselves - mob mentality
You got elementary rhymes, I break a mental sweat with mine
When you rejected me, I spent time perfecting every line
Spitting literal fire, with formidable size
If you belittle me it'll fail, my confidence flies

(Skeleton)
Cut the beat

(Ghast)
I don't need to hear a beat to lyrically annihilate you
Y'all so far beneath me, makes it hard for me to hate you
Step up to my level, then we'll get to talkin' business
You know the game I'm playing - survival of the fittest
Your writtens are for children, I'll show you that I'm better
I'll have your music box blasting the Ghast's platinum record
And before I drop this mic, I'll drop a bomb on this mob army
Y'all are long outdated, I'm bouncing out this block party
Sours: https://www.deviantart.com/domobfdi/journal/JT-Music-Minecraft-The-Mob-Raps-Lyrics-804978306
Released
May 30 2012
Length
4:41
Game
Minecraft
Featuring
None
Preceded by
Creeper VS Zombie
Followed by
Mob Rap Part II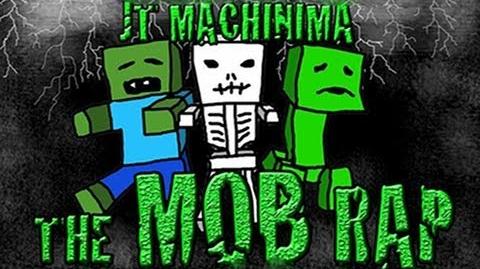 The Mob Rap Part I is the second installment in the Mob Rap series.
Mobs[]
Zombie
Skeleton
Creeper
Grandpa Jenkins
Zombie Pigman
Villager
Ghast
Enderman
Trivia[]
The Pigman at the end of the video says "That idiot keeps screwing this up every year, I don't know who keeps inviting him back." It implies that these videos will be released every year and so far the have been.
Sours: https://jt-machinima.fandom.com/wiki/Mob_Rap_Part_I
"The Mob Rap, Pt. I" lyrics
JT Machinima Lyrics
"The Mob Rap, Pt. I"
[Zombie:]
They call me undead an ABOMINATION
Better get yourself prepared for ZOMBIE CHASIN
Once I'm on your tail
I cannot be stopped
I'll keep slammin' on your door until I KNOCK IT OFF
Is one of three words
In my vocab
If I say BLEH BLEH
Then you made me MAD
And if you push me
I'll push you back
My skin is green and my heart is BLACK

[Skeleton:]
I'm like walking corpse of LEGOLAS
I got a bow in my hand and I NEVER MISS
I'm menace to everybody in the game
You hear my bones CLICK CLACK
And ya know my name
Cuz I'm a skeleton
Ya better run
I'll shoot ya bum PUNK
Just because I think it's fun
If you're outside at night
You should try to hide
I'll be lookin' for ya while I take a SPIDER RIDE
WOOO

[Creeper:]
Don't mistake me for a walking penis
Yes I'm shaped like one
But I'm quite egregious
Because everybody runs
No one ever hits me
You know if I go down
I'm TAKING YOU WITH ME
HISSSSSSS
That's the only sound I make
And if you hear me nearby
Then it's probably too late
My massive blast radius
Will hit your bum
Say goodbye level 50
Hello level ONE

[Hook:]
The sun goes down
That's when
They get started
They've got one mission
That's to
Kill the target

Are you the kinda miner who can fight off all the mobs?
Or are you
Just another noob
Who keeps
Creative mode on?

[Zombie Pigman:]
I spawn within the depths of nether
So I'm rather accustomed to fiery weather
And I'm on patrol with a golden sword
Gettin' ready to attack
So COME AT ME BRO
SNORT SNORT
Don't try to make me OVERREACT
Because once I'm provoked, you get the WHOLE PACK
You may call us butt buddies and we are just that cuz we smell like bacon and we taste like ASS

[Villager:]
I'm just a villager dude
I was caught in the middle of a CRAZY feud
I just grow my herbs and smoke my pipe
I have a tiny house bro
THIS IS MY LIFE
I just do what I can to get by then the mobs and griefers screw me over
WHY!?!?!?!
Let's all live in HARMONY!
We can work together dudes
Come along with me!!!

[Hook]

Are you the kinda miner who can fight off all the mobs?
Or are you
Just another noob
Who sleeps in bed until dawn?

[Ghast:]
My voice is high-pitched so nobody likes me
I can't live in a house
Cuz that'd be a tight squeeze
I fly freely with my eyes squeezed tight
Take a nap in the sky
Till find a fight and then I SQUEAL like a girl and I breathe fireballs
If you think that you can take me then I hope you're kinda tall
I'm the biggest in size and I use it well
I may sound like a baby but I SPAWN IN HELL

[Enderman:]
Well...
I'm an Enderman...
...rapping isn't my THING
But I guess I'll do SOMETHING since...
I'd prefer not to SING
I'm tall and dark, all I do is walk minding my own business until I'm pissed off
Is this block from your house?
WELL NOW IT'S MINE
Don't look at my face and we'll be JUST FINE

[Hook]

Are you the kinda miner who can fight off all the mobs?
Or are you
Just another noob
Who spawns whatever he wants?
PATHETIC

[Hook]

Are you the kinda miner who can fight off all the mobs?
Or are you
Just another noob
Who sounds like somebody's MOM?!?!
Submit Corrections
Sours: https://www.azlyrics.com/lyrics/jtmachinima/themobrappti.html
✔ 14 Things You Didn't Know About Piglins
Crime Mob
American hip hop group
For the general term, see Organized crime.
Crime Mob is an American hip hop group from Atlanta consisting of six members: M.I.G., Cyco Black, Princess, Lil' Jay, Diamond, and Killa C. The group is best known for their songs "Knuck If You Buck" and "Rock Yo Hips". After an arrest in 2003, member Killa C left the group. Crime Mob reunited and performed at Atlanta's Hot 107.9's Birthday Bash in 2012;[1] Princess was the only absent member. In 2018, all members of Crime Mob were reunited by Atlanta based producer Mike Will Made It on a song called "We Can Hit" featuring Slim Jxmmi of Rae Sremmurd. The song is featured on the Creed II movie soundtrack. Crime Mob was discovered by Grand Master Tommy Phillips IV of Crunk Incorporated known as #LiTgod Serious Lord.
Discography[edit]
Albums[edit]
Singles[edit]
References[edit]
External links[edit]
Sours: https://en.wikipedia.org/wiki/Crime_Mob
Rap 1 mob
.
Mob Rap, Part 1 by JT Music
.
You will also be interested:
.
385
386
387
388
389