How to Make your Own DIY Wooden Peg Doll Nativity Set
This Peg Doll Nativity Set tutorial may contain affiliate links, which help us support this site.
Nativities are arguably my favorite decoration to pull out each Christmas. They are a beautiful reminder of the real reason we celebrate Christmas, which is so easily lost in all the hustle and bustle of the season. Since I have rascally little children at my house, our nativities are limited to those that can live through dropping, throwing, etc. There are few things that hold up to kids better than wood, which is one of the reasons I've been wanting to make a peg doll nativity, and I'm so glad I followed through this year! Keep reading to learn how to make this simple DIY Wooden Peg Doll Nativity Set!
Supplies needed to make your own Peg Doll Nativity Set
Peg doll set
Unfinished wood house
Wood star
Small unfinished wood box
Craft paint
Felt
Order our kit here:
How to Make a Peg Doll Nativity Set
Stable
1. Paint the wood star white. Let dry, then hot glue it to the point on the roof of the house.
2. Cut patterned paper (I used a wood pattern) to fit the back piece on the inside of the house. Use glue or Mod Podge to attach.
Manger
1. Remove the hardware from the wood hinged box, and separate the pieces. You will only need the bottom portion of the box.
2. Fill the holes from the screws, if desired.
3. Fill the box with Easter grass or excelsior.
Baby Jesus
1. Paint the baby peg doll from the neck-down, using white paint. Let dry.
2. Wrap a small piece of white felt around the baby body, and secure with glue. Trim felt to line up with the bottom of the body.
Mary
1. Using one of the triangular peg dolls, paint from the neck-down, using light blue paint (or color of your choice). Let dry.
2. Paint brown hair on the peg doll head. Let dry.
3. To make the head piece, cut a triangle (about 4 inches wide at the bottom and 2 inches tall) out of white felt.
4. Take the long straight side of the triangle and position it over the top of the head of the doll. Secure with hot glue on top of the head, and on the body (if needed to keep the felt hanging straight).
Joseph
1. Using one of the straight peg dolls, paint from the neck-down, using brown paint (or color of your choice). Let dry.
2. Paint brown hair and a beard on the peg doll head. Let dry.
3. Tie a piece of baker's twine around the middle of the body. Secure with glue, if desired.
Shepherd Option 1
1. Using one of the straight peg dolls, paint from the neck-down, using a neutral color. Let dry.
2. Paint hair and a beard on the peg doll head. Let dry.
3. To make the shoulder cloth, cut a strip of felt (about 5 inches long and 1 inch wide) in a neutral color.
4. Gather the strip long ways, and use hot glue to keep it secure.
5. Use hot glue to attach the felt to the doll body.
Shepherd Option 2
1. Using one of the straight peg dolls, paint from the neck-down, using a neutral color. Let dry.
2. Cut a triangle (about 4 inches wide at the bottom and 2 inches tall) out of neutral-colored felt.
3. Take the long straight side of the triangle and position it over the head of the doll, leaving a little hanging over the face. Secure with hot glue on top of the head, and on the body (if needed to keep the felt hanging straight).
4. Wrap a piece of twine around the head piece, and secure with glue.
5. Cut wood patterned adhesive vinyl into the shape of a hook and attach to the doll body.
Wise Men
1. Using one of the straight peg dolls, paint from the neck-down, using the color of your choice. Let dry.
2. Paint hair and a beard on the peg doll head. Let dry.
3. To make the crown, cut a strip of gold felt (about 2 inches long and 1/4 inch wide).
4. Glue the strip into a circle, and use hot glue to attach it to the doll head.
5. To make the cape, cut a rectangle of felt (about 2 inches by 3 inches) that corresponds with the paint color on the body.
6. Use hot glue to attach one of the short sides of the rectangle around the top of the body.
7. Repeat to make the remaining wise men.
Angel
1. Using one of the triangular peg dolls, paint from the neck-down, using white paint. Let dry.
2. To make the wings, cut a piece of white felt into the desired shape. Use hot glue to attach to the back of the doll.
3. To make the halo, wrap gold wire in a circle and attach to the peg doll head with hot glue.
Arrange all the pieces together, and you have the sweetest little Nativity that will be so fun to pull out year after year!
Happy crafting!
xo, Sam
---
If you like this tutorial, try these other projects!
DIY Chalkboard Christmas Sign
DIY Christmas Village
DIY Wood Tree Advent Calendar with Free Printable Activities
DIY Ornament Christmas Cards
Sours: https://prettylifegirls.com/2019/12/how-to-make-your-own-diy-wooden-peg-doll-nativity-set.html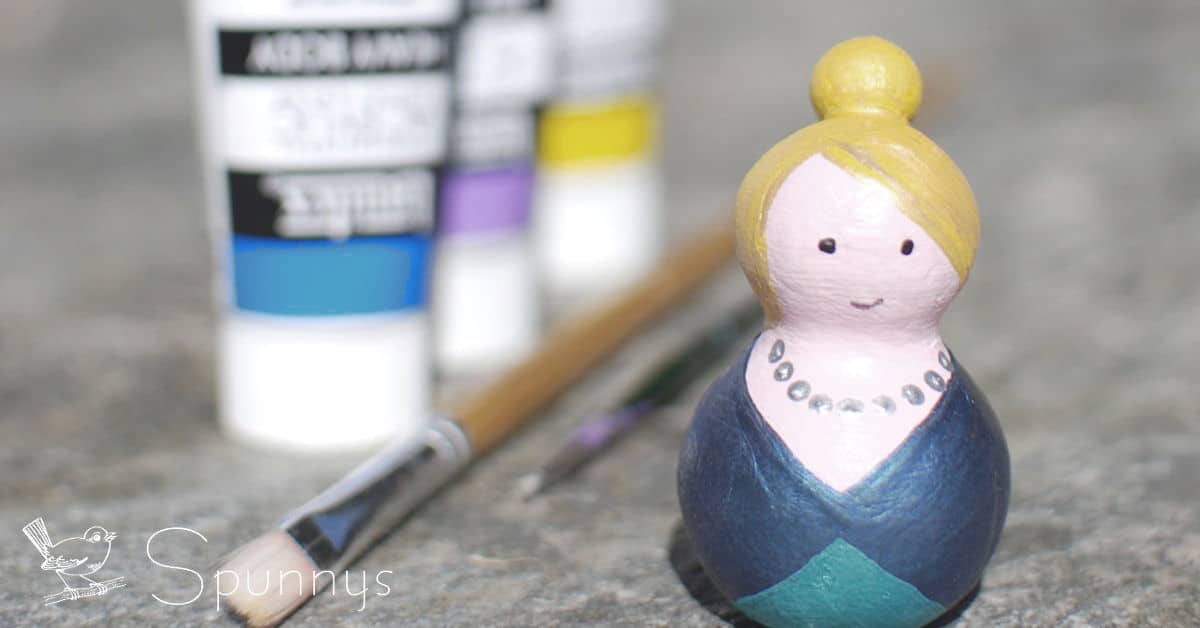 Painting peg dolls is fun and addictive. Check out our list of tips, tricks and advice and learn how you can paint beautiful peg doll people. All of our tips apply to both wooden peg dolls and spun cotton.
Peg dolls can be painted after family members, pets, super heroes, school teachers….The sky is the limit. Peg dolls can also be accessorized with materials such as felt, pipe cleaners, fabric…
How to paint peg dolls – our best tips, tricks and advice
1: Have faith in yourself, it's much easier than you think
There is no need for fancy paint, fancy brushes, and there is certainly no need to be an artist. Actually I know several people who are famous for their work with peg dolls and who were not artists in the first place. The learning curve is fast. And there is no shortage of ideas out there to get inspired. So trust in yourself, you will do awesome!
2: Know what doll shapes are out there.
There are many different shapes and sizes out there so make sure to use the ones that fit your project the best. You will find female shapes, man shapes, shapes with a large head, shapes with a small head, shapes with rounded bodies, shapes with slender bodies….If for example you are painting peg dolls after your family, make sure to use different size peg dolls to differentiate between adults and children.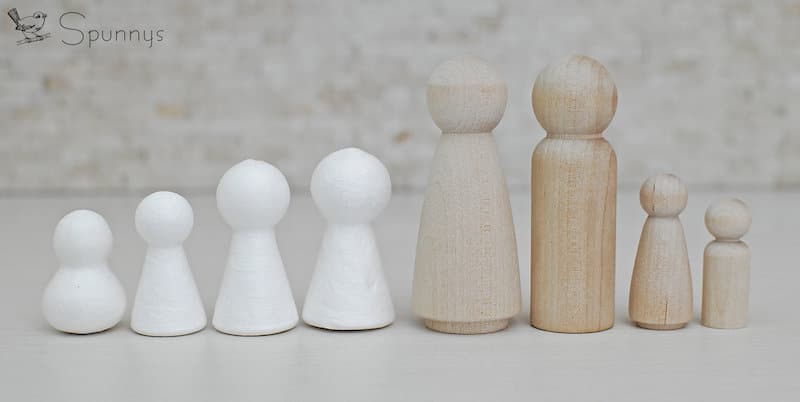 3: Prep your doll shapes.
If you are painting a wooden doll, make sure it is smooth. You may have to sand it a little bit. Always sand in the direction of the wood grain.
4: It's much easier to outline first.
I have painted hundreds of dolls but I still use a pencil to outline things like the eyes, the mouth, the clothes, the details..You can use a pencil eraser directly onto a wooden peg doll or a paper peg doll. If you don't outline and make a mistake while painting, it will take a long time to correct this mistake.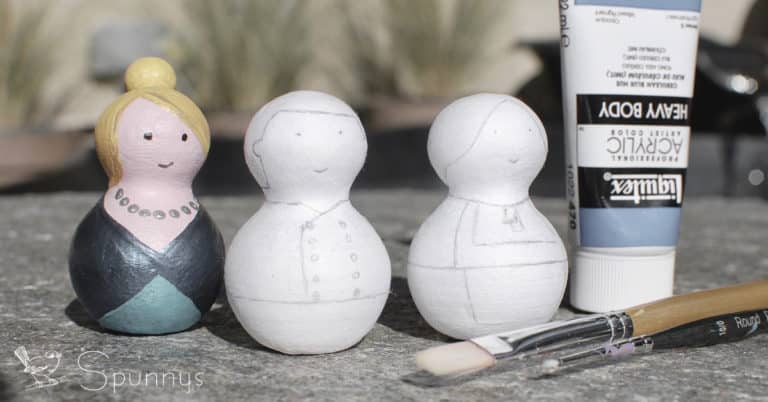 5: How to make peg doll hair buns
You have several options. I recommend spun cotton balls (ø8, 10 or 12 mm). Use tacky glue to fix the balls to your dolls (wooden or spun cotton), it works very well. You can also gently squeeze the balls to flatten them a little and make the bun more of an oval.
The other way to make hair buns is to use wooden balls. However it's not as easy because you will have to drill a hole in the wooden ball, a hole in the doll head, and join them together with a toothpick and wood glue.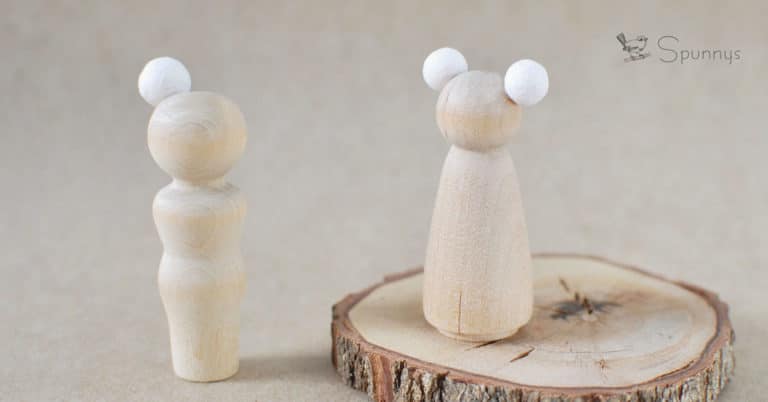 6: Learn to position your facial features.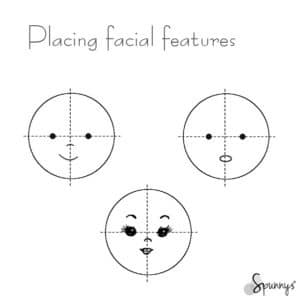 Too often the eyes are positioned too high on a peg doll face. To help you position all the facial features where they belong, there is a simple trick. Just imagine (or draw with a pencil) two intersecting lines dividing the peg doll's head in 4 equal parts. Position the eyes on the horizontal line. Then, use the vertical line to position the nose and the mouth. That's it. The eyes may seem too low this way but they aren't. After you draw the hair or add a hat to your doll, your peg doll will look perfectly normal and well proportioned.
7: Small details are better achieved with a small brush.
This sounds obvious but it is so true. You got to have the right tools. I made a $5 investment 2 years ago in a tiny size #10/0 round brush and today I cannot imagine myself without it. I use it for almost all my peg doll projects. You can also make a small brush by cutting the bristles of a small round brush.
8: Save money. You don't have to buy too many paint tubes.
If you are on a budget, it's much better to buy only a few tubes of high quality paint than to buy many tubes of low quality paint. High quality paint is easier to work with (creamier), makes for a more even coverage, and will look much better once the paint is dry. I like to use acrylic paint. I was once told that the following eight colors are enough for most purposes: yellow ochre, gamboge, light red, crimson lake (carmine), Van Dyke brown, ultramarine blue, Hooker's green, and Payne's gray. I would definitely add white to this list.
9: Watch your paint consistency.
Paints that are too thick in consistency may be very difficult to work with, especially when painting details, or when painting a clean border between 2 colors. Acrylic paint for example can get thicker with age. I notice this with some of my old tubes. You can use a little water on your brush to thin it and make it more workable.
10: To paint small dots, you can use a tooth pick.
Dip the tip of a toothpick in a small amount of paint and gently dab a dot onto your doll. Bamboo skewers and pencils also work great. Pencils are actually my favorite tools to make eyes. To make eyes, I use the lead tip of a pencil that has a slightly worn out tip. If the pencil was freshly sharpened, it wouldn't work as well, the dots would be too small.
11: Paint clothes in a logical order.
It's easier to paint clothes that are closest to the body first (shirt before jacket). And if you paint your shirt before your jacket, your final project will also look better this way. It's also easier to paint light colors before dark colors.
12: Keep it simple.
Often, simple just looks better. Add too many details or try to be too realistic and you may lose this little something special that make painted peg dolls look so adorable. For example, consider Waldorf inspired peg dolls. Their appearance is intentionally simple. It makes for a cute look and fosters creativity.
13: Keep your brushes clean.
Don't let the paint dry up on your brushes or they will be harder to clean later. Keep a paper towel and a cup of water handy.
14: Protect your finished dolls.
Finish your project with a clear coat varnish. This will protect it from finger prints and prevent the paint from chipping. You can choose to use a glossy or matte varnish.
How to paint peg dolls – from theory to practice
Follow our step by step tutorial and learn how you can easily paint your own peg doll. We'll use a princess as an example. You can use wooden peg dolls or spun cotton peg dolls.
Step 1 – Gather your materials. Acrylic paint works great for both wooden peg dolls and spun cotton peg dolls. I also always have a pencil handy. It's useful to outline but also to dab little dots of paint (to paint the eyes for examples).
Step 2 – Paint the skin color first. When dry, outline the dress, the face (the eyes and mouth), and the hair with a pencil
Step 3 – Paint the hair (you can hold your peg doll by its body while you paint the hair). When you are done, paint the eyes and draw the mouth. To paint the eyes, you can dip the tip of a pencil into black paint and gently dabbed little dots onto the doll. To draw the mouth, I simply used a black ball pen. Let dry. When the hair and the face are dry, paint the dress. To paint the dress, you can hold the doll by its head.
Step 4 – Outline and paint the accessories: hair band and necklace. To paint the necklace dots, I used the same technique as the one I used for the eyes (the pencil technique).
You are done :)
Don't worry if your first painted peg dolls don't look all perfect, the learning curve is quick and your next dolls will look fantastic. Thank you for reading and I hope you enjoyed this page. As always, if you have any questions, do not hesitate to get in touch.
SaveSave
SaveSave
Sours: https://www.spunnys.com/how-to-paint-peg-dolls/
Since learning about the importance of choosing toys that encourage growth rather than just entertain, I have been in love with wooden toys.
A wooden toy doesn't simply just sit on the shelf. A child doesn't just sit back and watch them.
Wooden toys feed a child's curiosity, fire up their imagination and engage a child in truly meaningful, creative play.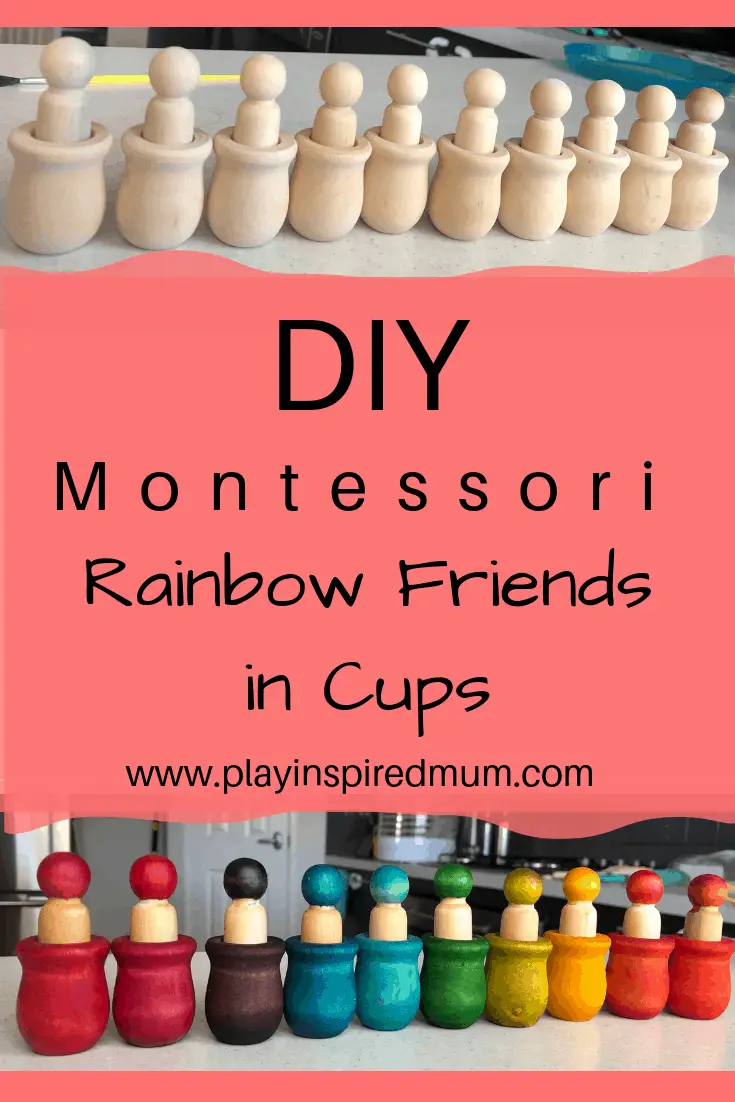 Why Wooden Toys
As a parent, it is so rewarding watching your child explore a toy. They come up with their own ideas, create their own experiences and inspire you to do the same with them.
Being able to provide toys which stimulate and encourage development is a privilege that I am very grateful for. In saying that, just quietly I do sometimes get a bit of toy envy when I see some high end toys that I would love to have in our collection but are outside our means.
In the lead up to Christmas, I had been saving for a certain quality, hand crafted, naturally dyed set of wooden toys for Miss 22m that I had been eyeing off all year.
'Quality over quantity' was what I had told myself to justify the purchase along with the fact it is a brilliant little set that would compliment our play style perfectly and open up many learning opportunities for all three children.
Where I got the idea and the natural wooden peg dolls and pots
Well, that was until I saw a hack on Instagram by @deejyyy.
I fell in love straight away! It was a very similar set of little coloured peg dolls in matching little coloured cups to the ones I had put onto the Christmas list!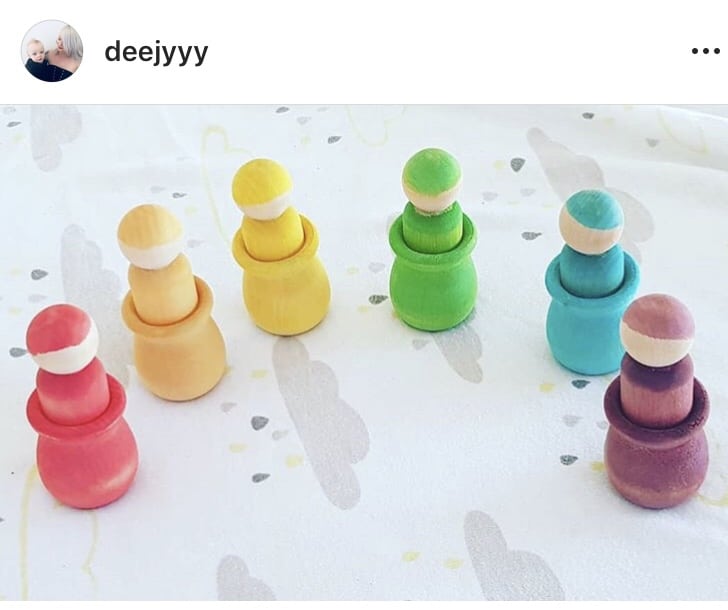 Within minutes I popped over to eBay and had ordered a set of 'wooden peg dolls in cups' by searching that very term. They were a bargain deal at less than $12 delivered to my letterbox – winning!
The little dolls and their pots arrived within a week and a bit (much sooner than the six weeks that was estimated!). I put them aside in a safe place to colour while Mr 10 and Miss 4 were at school and Miss 22m was napping.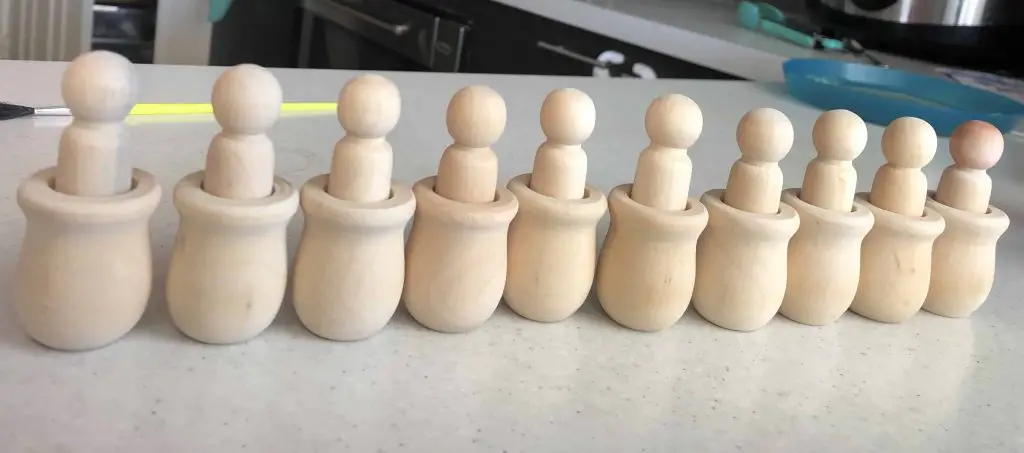 Like most things I put in safe places, when the opportunity came to colour them, so you think I could remember where I put them? Nope.
It wasn't until Christmas Eve when wrapping some last minute gifts that I came across them tucked into the bottom of bag of stocking stuffers. Not mentally prepared to colour them amongst the crazy that is Christmas prep, I put them aside to finish off with the kids during the summer holidays.
How did I colour the Wooden Peg Dolls and Cups?
Well this morning I came across our colour matching activity on Pinterest and was reminded again about the little peg dolls waiting to be played with.
Colouring our Wooden Peg Dolls and Cups
Using one of the kids paint brushes, I painted on food colouring to dye the heads of the dolls and their cup.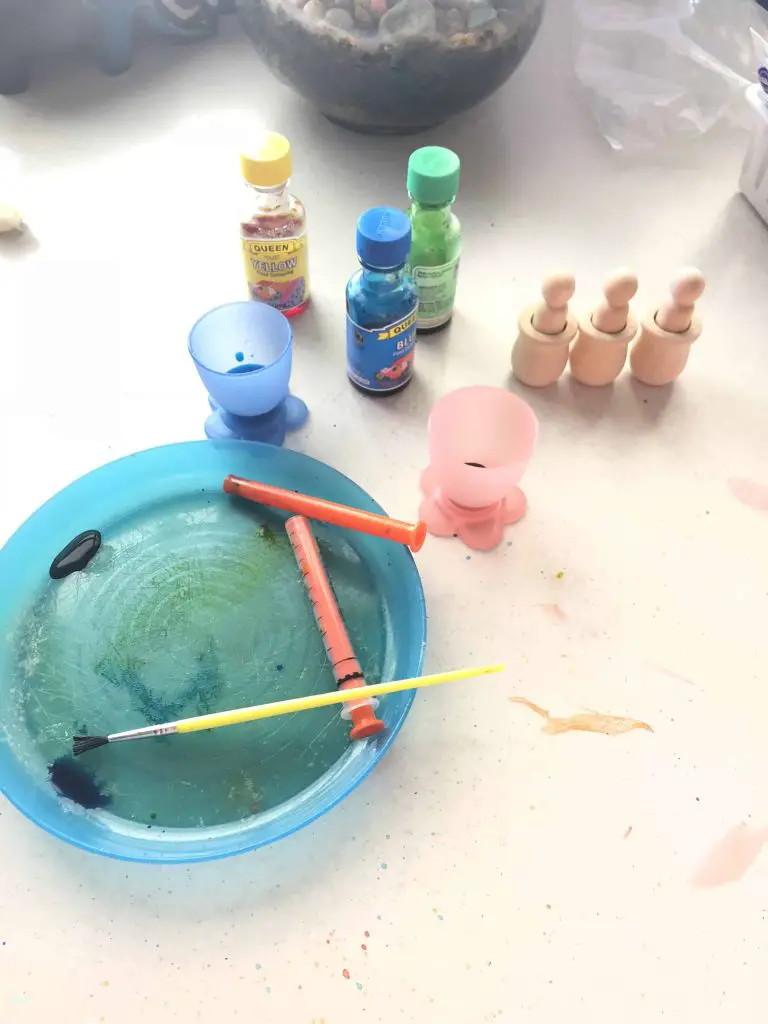 One thing that I learnt from this exercise is that I am certainly no artist. Mixing the colours proved to be quite a challenge that was unexpected especially purple!
I love purple! It is one of my favourite colours however today… I did not like purple at all. Even after googling the ratios to make purple by mixing red and blue colours, I'm still unsure if the result is actually purple. The girls don't seem to mind it though so I guess that is what important.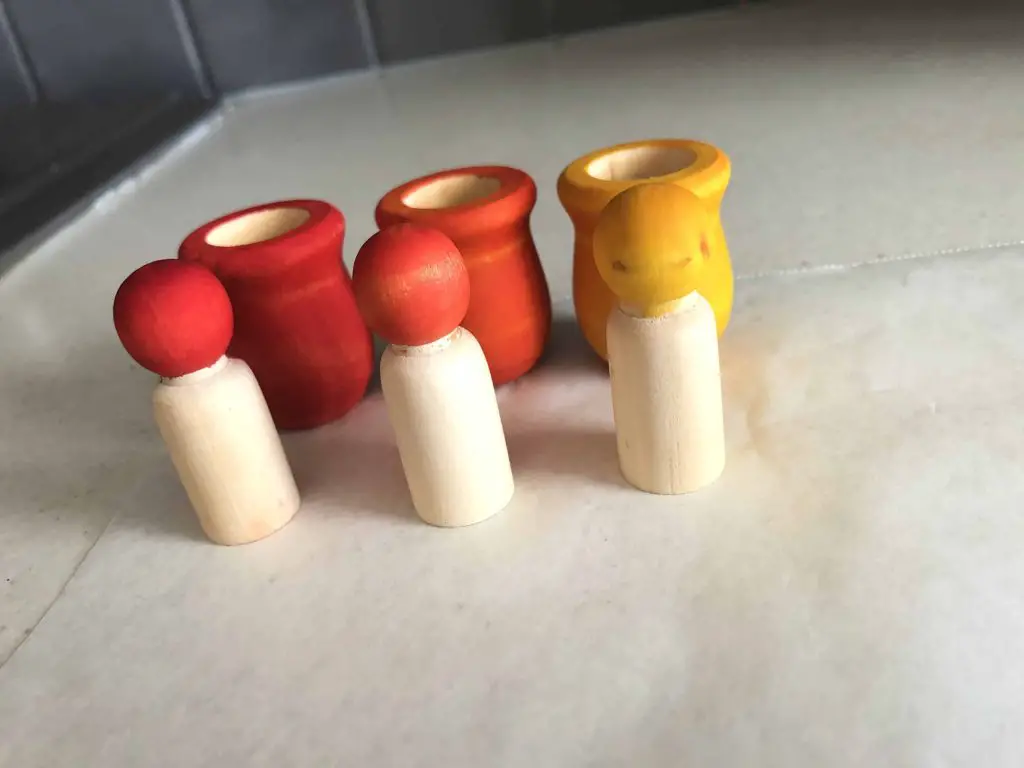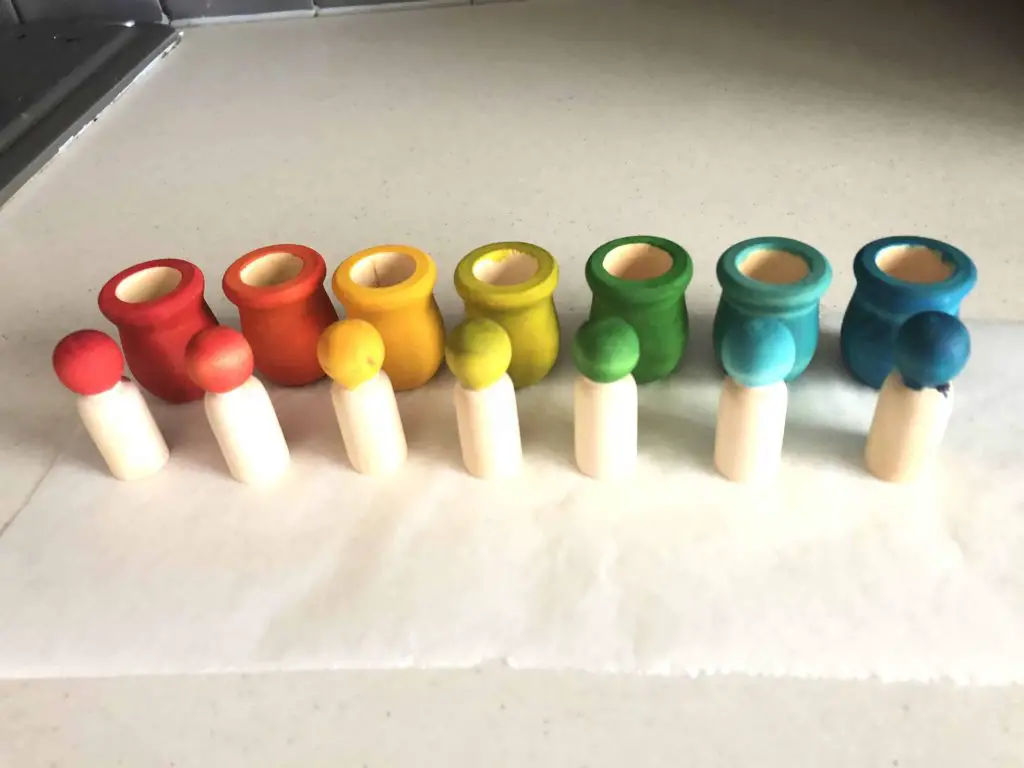 They dried really quickly. The wood soaked up the colour beautifully and I love how the grain of the wood can still be seen through the stain.
Sealing our Wooden Peg Doll and Cups
After a lick test, I found the colours transferred really easy when they got wet. Miss 22m still mouths a lot of toys so sealing them was a must.
I had some beeswax left over from sealing Miss 22m learning tower which is safe if it ends up in her mouth.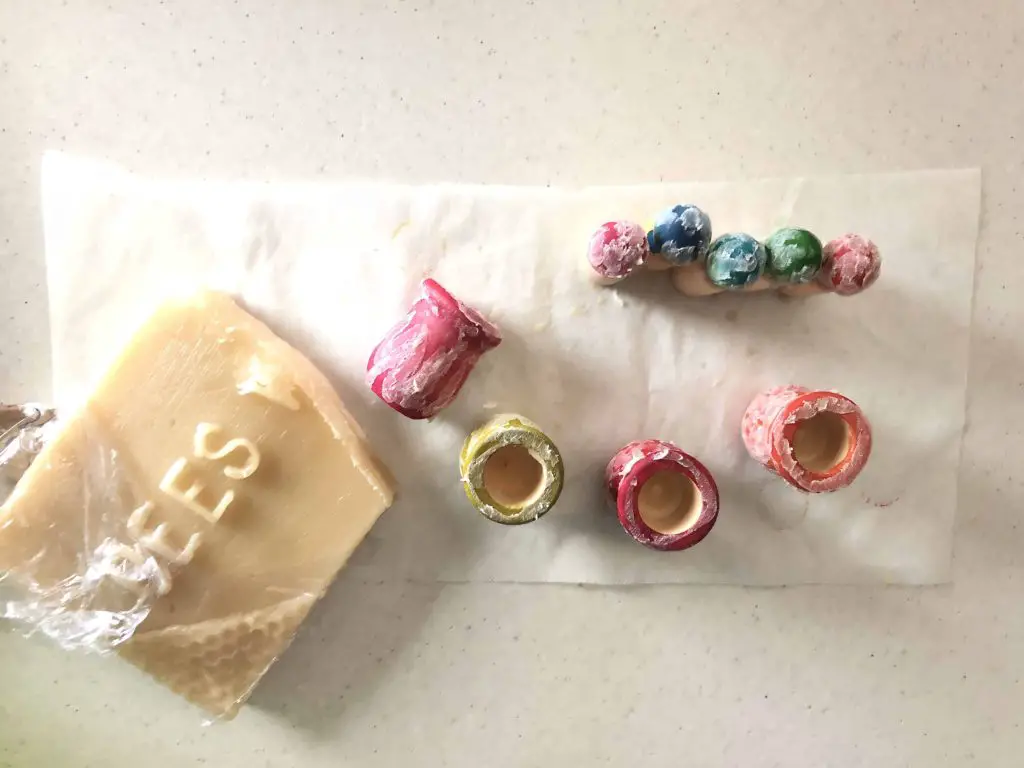 I warmed up the block of beeswax using a hairdryer. Once the wax was soft, I rubbed the wax over each of the figurines and pots. Using some kitchen tongs and a tea towel to hold them, I used the hair dryer to melt the beeswax over the surface of the wooden peg dolls and wooden cups.
The colours deepened once the beeswax set over them and (other than that horrid purple) I am really happy with how they turned out.
The girls were so excited to use them. I think they are going to be very well used in no time!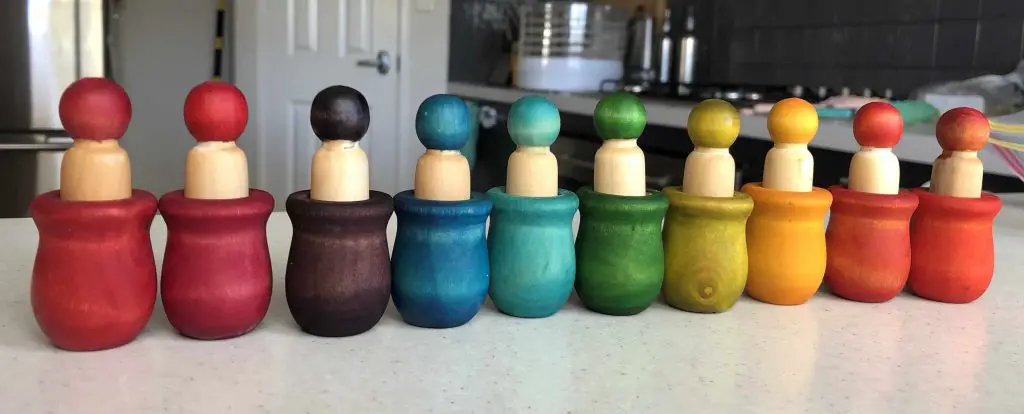 What educational activities will we be using them in?
The beauty of wooden toys is that there is no real right or wrong to how you use them. I envision using our DIY Rainbow Wooden Peg Dolls and Cups in all sorts of educational activities such as
Colour Sorting
Colour Matching
Sequencing Colours
Counting
Patterns
Matching Emotions
Creative Play
Small World Play
Loose Parts Play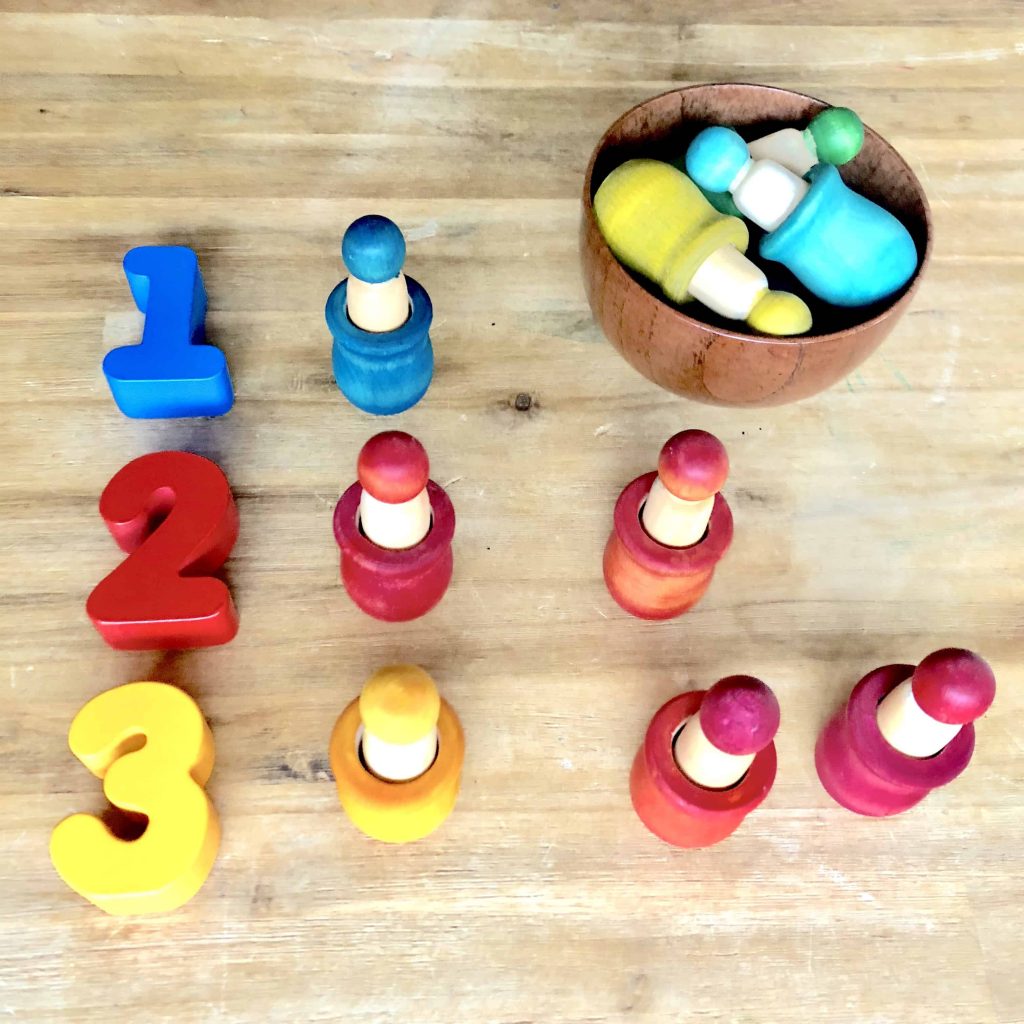 The possibilities are endless! These open ended toys offer so many educational learning opportunities.
Educational Opportunities
Skills that can be developed through play with these DIY Coloured Peg Dolls and Cups include but are not limited too:
Colour Recognition
Fine Motor Skills
Hand Eye Coordination
Problem Solving Skills
Cognitive Thinking
Logical Thinking
Turn Taking
Language Skills
Speech Development
Social Skills
I'll touch base in a few weeks and let you know what adventures these little dolls have taken us on and how the colour is standing up to our play.
For now, we are off to play!
Dani D x
Disclosure: This Blog does contain affiliate links which I may earn a small commission from if you purchase through them, at no extra cost to you.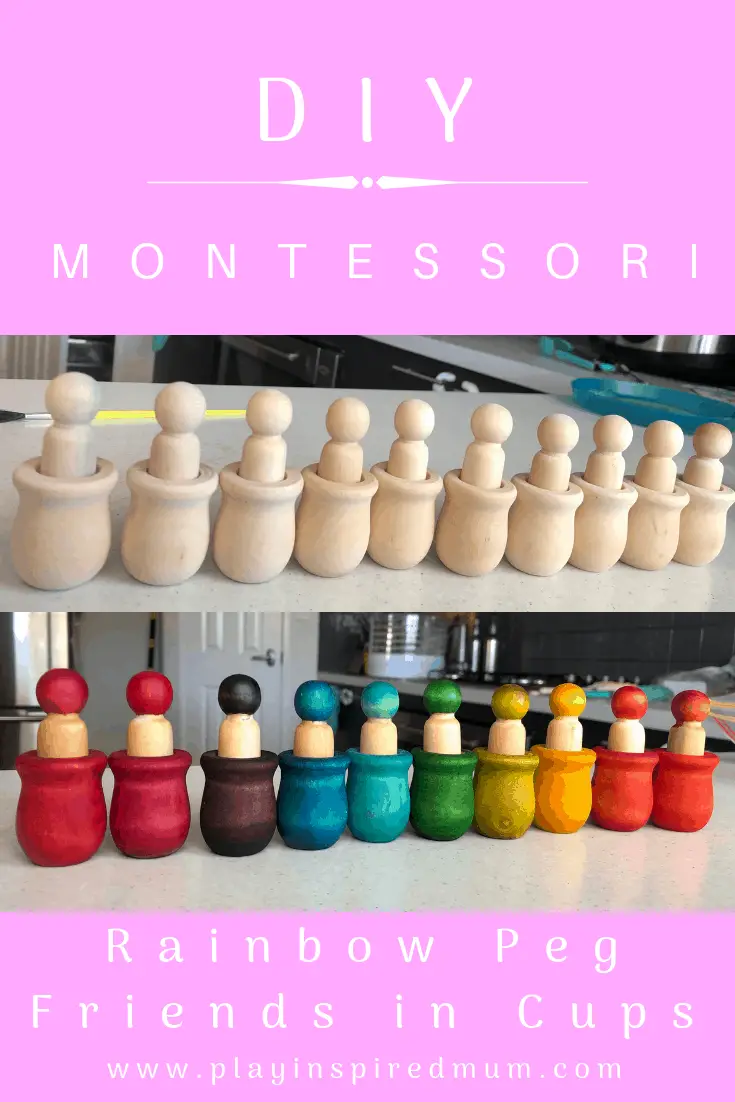 Does your child love learning about colours? Check out these educational and fun colour matching activities!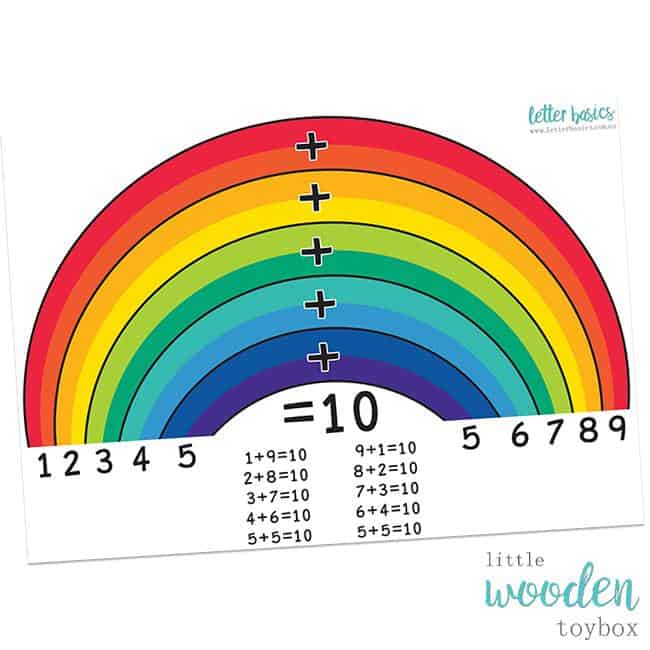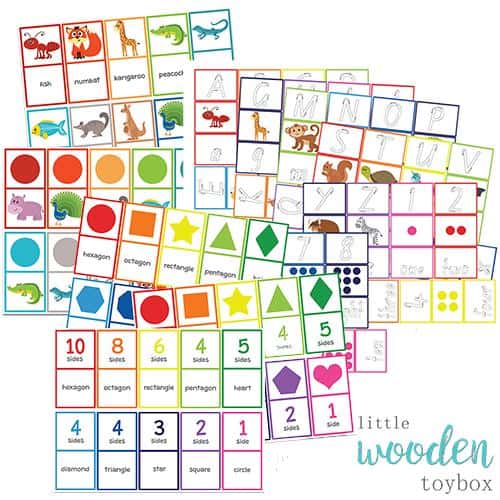 Explore more colours with 'The Rainbow Fish' by Marcus Pfister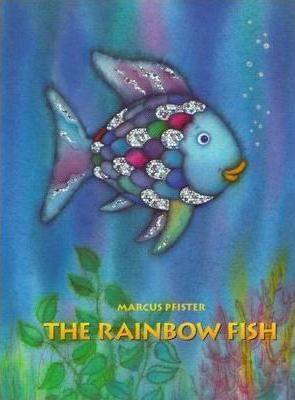 Sours: https://playinspiredmum.com/how-to-make-diy-coloured-wooden-peg-dolls-in-cups/
Dollhouse Build
My daughter's been fascinated by mini wooden dolls and characters lately. Wooden dolls are a timeless children's toy and encourage a great amount of imaginative play. There are so many unique ways to make your own wooden dolls, from classic peg and craft sticks, to some that impart new twists such as ones made from handles and knobs! Check out this creative collection of ideas to get inspired to make your own whimsical wooden dolls.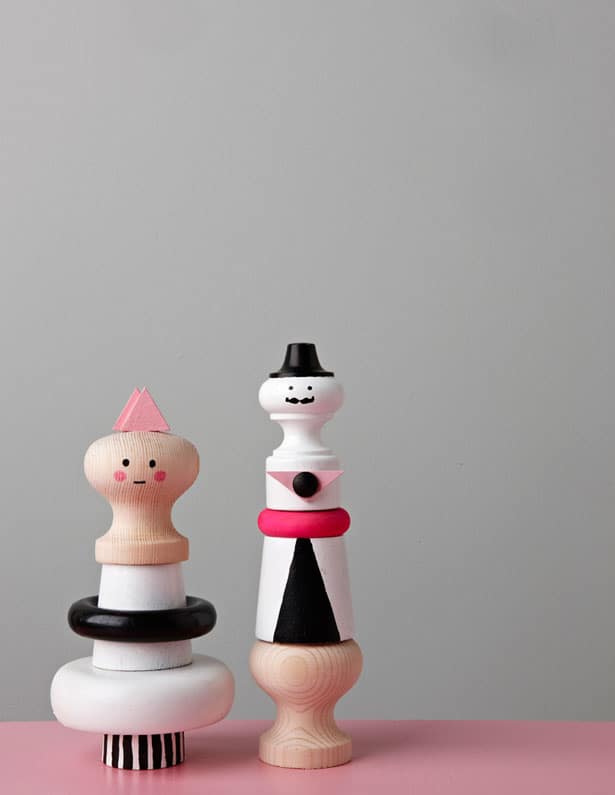 Knobs and Handles Wooden Dolls (via Scandinavian Deco) A unique way to refashion items to give them a new purpose, check out these cool wooden dolls made from doorknobs and handles.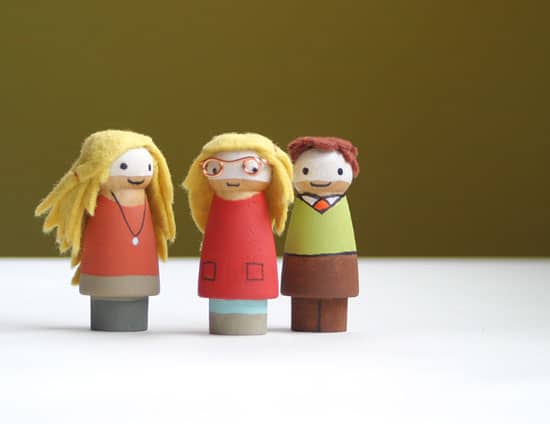 Wooden Doll Family (via Small For Big) Here's a fun project the entire family can participate in – making their own doll character! Also check out how to make neat accessories such as barrettes and glasses.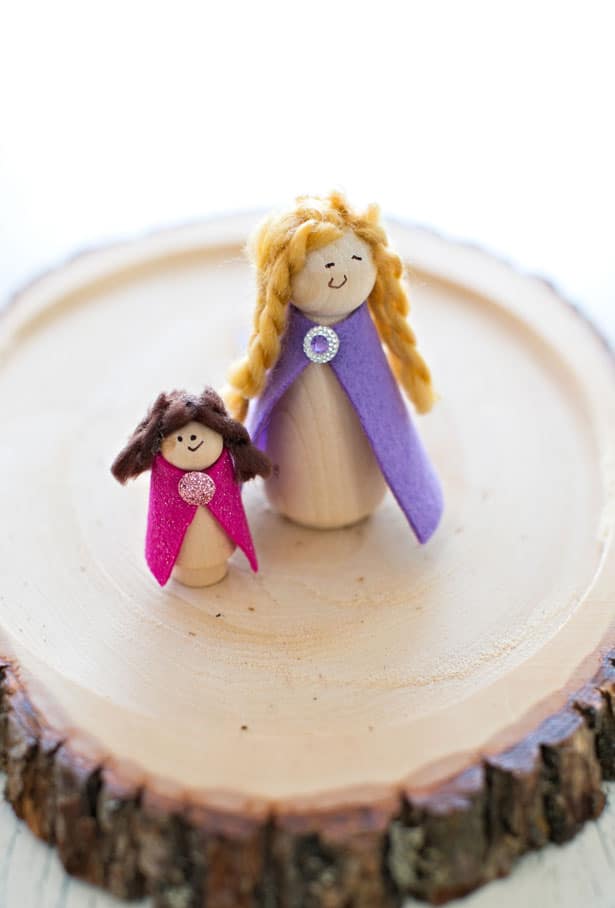 Easy Peg Doll Fairies (via hello, Wonderful) Here's our easy take on making a fairy peg doll complete with felt cloak and soft yarn hair.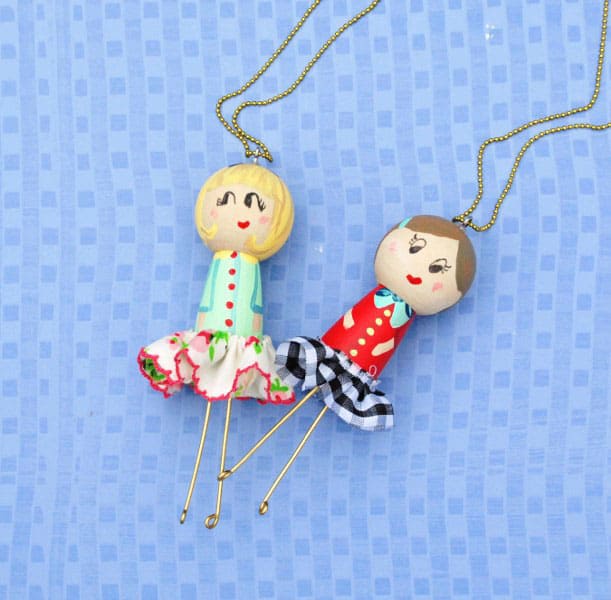 Wooden Doll Necklaces (via My So Called Crafty Life) What makes a doll even more fun? One that also doubles as a fashion accessory! See how to turn a cute peg doll into a fun necklace.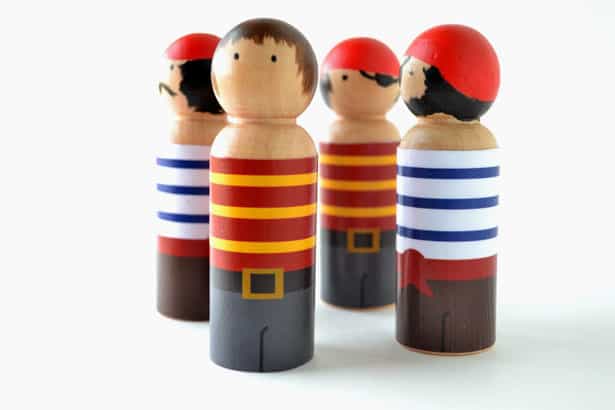 Pirate Peg Dolls (via Untrendy Life) With this fun craft, you not only learn how to turn peg dolls into a merry band of pirates, but you also get a free printable that has clothing templates for two different pirates.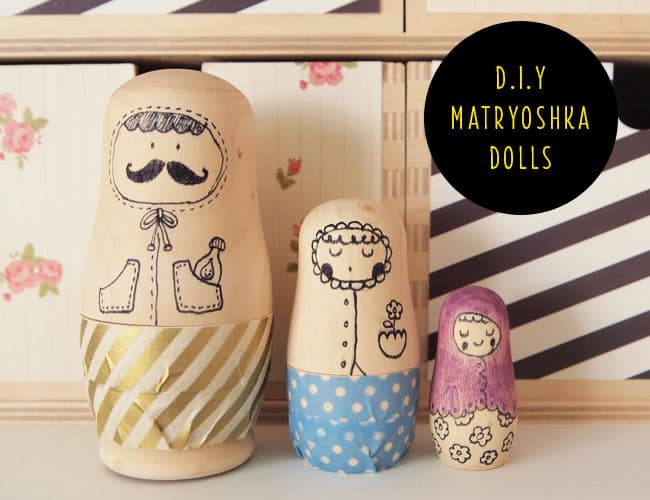 Matryoshka Dolls (via Design is Yay) How fun are these dolls? Make your own adorable nesting set of dolls (known as Matryoshkas) to decorate however you choose.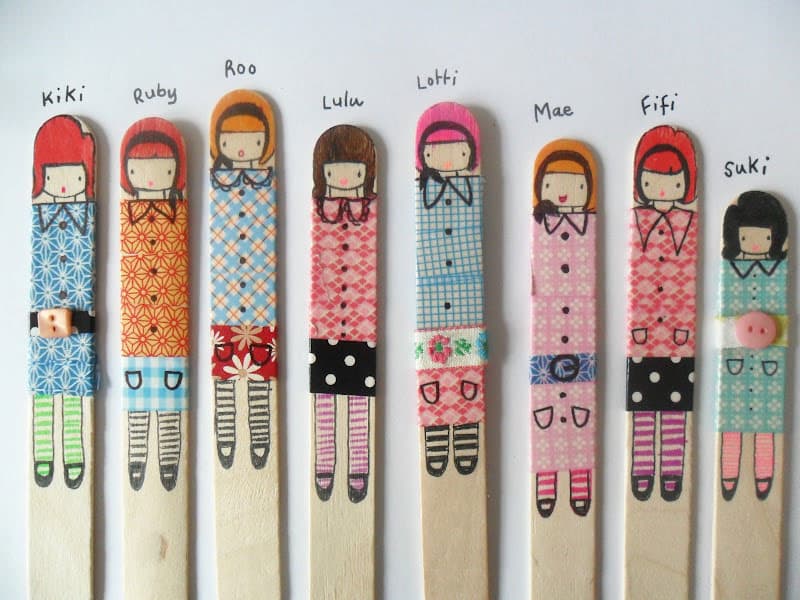 Craft Stick Dolls (via Tea Wagon Tales) These charming figures take an ordinary craft stick to a whole new level – complete with stylish washi tape outfits.
Sours: https://www.hellowonderful.co/post/7-creative-mini-diy-wooden-dolls/
Wooden dolls diy
.
Dollhouse Build
.
You will also be interested:
.
334
335
336
337
338